Well the gig with Formication went really well, apart from a few technical problems and a few car-related incidents that I will get to later.
Got to the venue for 7pm, parked outside (on a bit of pavement) and unloaded, helped by the Formication guys.
Got everything set-up quite quickly and tidily and was soundchecked by about 8:30. Somehow managed to misplace my camera while setting up but did manage to get the video camera set-up to tape the gig.
The venue was full of young trendy students, quite a different crowd to a normal EM gig. A few friends also came down, including Dave, Pete, Alan, Ian and Katy. (Thanks guys)
I was quite nervous due to the large crowd, but pulled myself together and went on at 9:05 and played about an hour long set of drones, spacey ambient sections, sequencer sections and a few wig-out solos too.
Unfortunately I had a few technical problems during the gig:
I forgot to press record on the minidisc, then when I did remember, when I checked the recording levels I realised I'd also forgotten to plug the minidisc in, as I'd been using it's output with my headphones for a few final checks. Hopefully I should only have missed about 5 mins.
Also, during the first half of the set, when I came to fade things out for a transition, I found I had some stuck notes droning in the background. After desperately checking all the faders on the mixing desk I realised it was the Prophet 600, but in the dark I couldn't really work out why, so I just turned it off. Later when I decided to give it another go I discovered that about 5 of the top keys had slipped out of alignment and were sticking down.
Apparently no-one noticed so hopefully the recording won't have been ruined.
There was a fair bit of applause at the end of the set and at several points during the set where it sounded like I may have been coming to the end of a piece.
Unfortunately, as soon as I came off stage, Alan, one of the promoters, came up to me to tell me that someone had snapped the wing mirror of my car whilst I was playing. Luckily the bouncers had manged to get the pieces off the miscreants. I managed to put all the pieces back together but despite the best efforts of Alan and myself we just couldn't get it back on. Deciding to leave it 'til the morning I headed back inside to sort a few things out.
I was still on a high from the performance and wasn't really bothered, as I was sure it could be fixed.
Reports from people I spoke to afterwards were that my set was pretty well recieved and that there were even people dancing. I sold a few CDs too.
Next thing I knew, Jared, the other one of the Leftlion promoters was outside arguing with a traffic warden, who wanted to give me a ticket for illegal parking. Ooops, in all the excitement I'd completely forgotten to move my car and lo and behold I was issued with a £30 fine. Bugger.
Even this didn't really phase me, so I got in the car and drove off to find a parking space 1/2 a mile up the road.
Headed back in time to catch the bulk of Formications set, slightly dazed by the evenings events.
Jared very kindly paid my fine too, which made me feel rather guilty as it was really my fault, but it made him happy as he was still feeling guilty about the wing mirror incident.
Some photos:
Gratuitous gear shot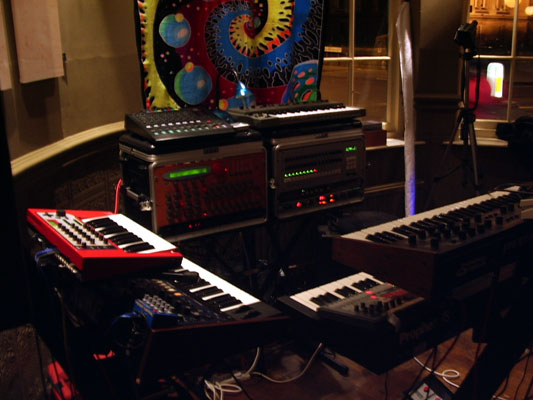 Me in action (photo by Alec of Formication)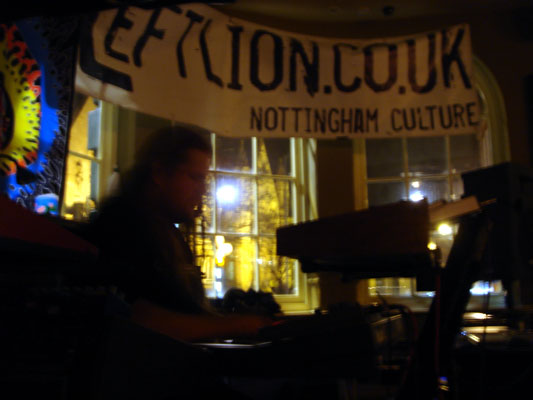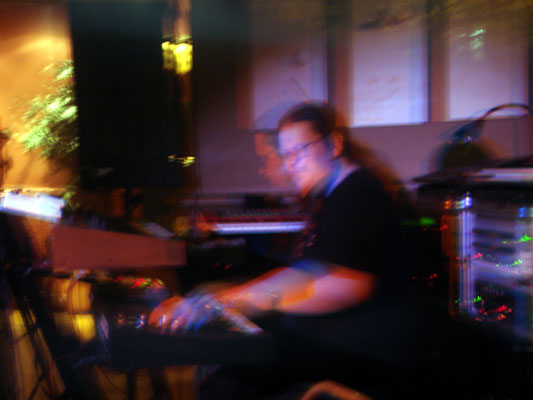 Formication in action
rest
here
All in all, quite a strange evening, but overall a positive experience.
I even had some girls come up and ask me questions after the gig which was nice.
Also big thanks to Joe who helped me pack up afterwards